Comedy is not perfect, folks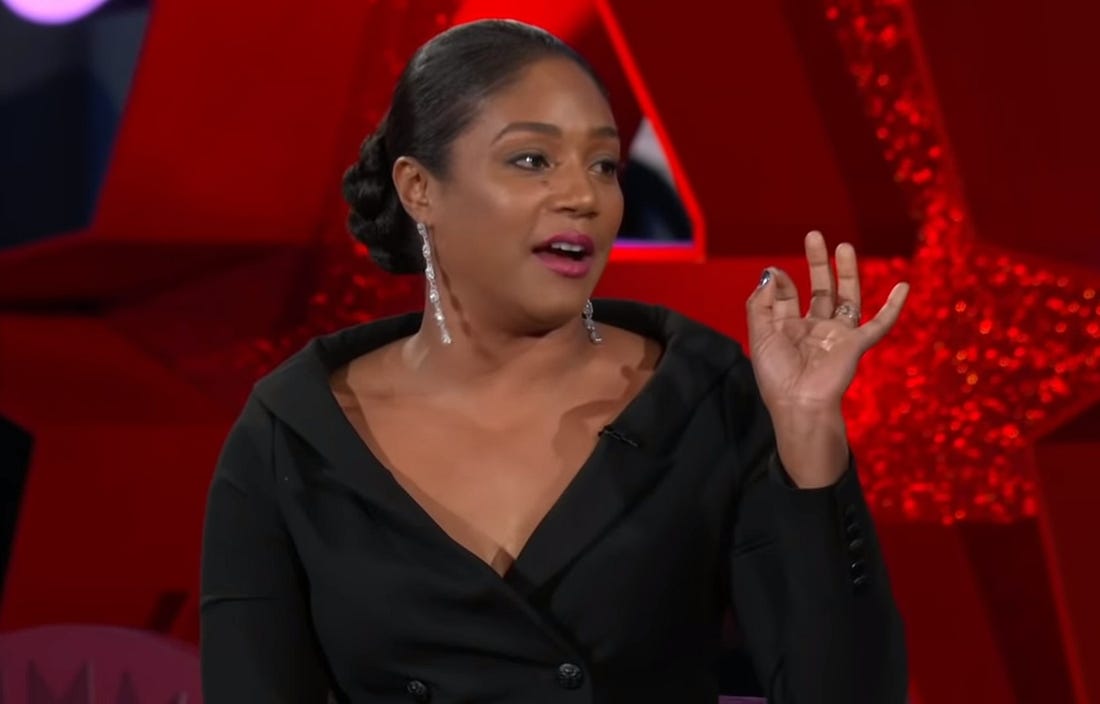 Tiffany Haddish is currently one of the funniest people on the planet. Her 2017 comedy special, Tiffany Haddish: She Ready! From the Hood to Hollywood, was one of the year's best. Meanwhile, her turn as Dina in Girls Trip made for one of the funniest (and most thoughtful) comedic performances in a feature film. But through it all, and especially now that she's a household name with big fancy projects like a stand-up series and BoJack Horseman-derived show at Netflix (and many, many other things), Haddish is still a comic at heart.
Of course, like most things in entertainment, comedy is subjective — especially stand-up comedy. So when she put on a poorly reviewed show on New Year's Eve, it became a thing online.
The predictably exacerbated (and ALL CAPS) headline at TMZ read, "TIFFANY HADDISH: ROUGH NEW YEAR'S EVE PERFORMANCE: 'I Wish It Was Better.'" Per their report, the Miami crowd "started to disperse mid-show" when it became apparent that "her set wasn't connecting with the audience." Haddish, who was evidently not sober, promptly "cracked open a bottle of Ciroc and started drinking."
Aside from TMZ's initial report, show attendees began tweeting about the show, including one gentleman who tweeted a video of Haddish bombing and, following his vocal (and recorded) complaints, invited him "up on stage to tell jokes." (The tweeted video has since been deleted.) Others agreed with this sentiment, though just as many (if not more) took issue with what appeared to be a mostly-male crowd of detractors.
Either way, Haddish addressed the matter the following day with an apology. "Yes this happened," she wrote. "I wish it was better Miami. I prayed on it and I have a strong feeling this will never happened again." She also spoke about it this week, a full three months later, when talk show host Jimmy Kimmel brought it up on Tuesday's episode.
"You ever have a bad day at work? … It was just a bad day at work. What happened was, I don't know if you noticed, but I had a bad day at work. I worked a lot last year. I had 40 days off, and out of those 40 days, I only slept in my actual bed 28 of those days… So I get off set and I fly directly to Miami the night before. A lot of my friends were in town and they were like, 'Tiffany, come on! We gotta go out. Come on. Let's go out. Let's celebrate!' And I was like, 'No, I'd rather sleep. I've got a big show tomorrow.'"
Obviously, Kimmel wasn't trying to surprise Haddish with the subject, as it was likely a part of the show's pre-interview process and, therefore, approved by the comedian. In fact, she went on to tell a hilarious and exaggerated story about going out to celebrate with her friends in Miami (instead of sleeping) and detail precisely what was going through her head when the New Year's Eve show started bombing. In other words, the whole thing worked out well for Haddish, both conversationally for her Jimmy Kimmel Live! appearance, and creatively as it offered her more fodder for her stand-up routine.
(Plus, she's going back to Miami to do another performance that the New Year's Eve show attendees and get into for free. Otherwise, tickets purchased for the event will go to a charitable cause. Good on her!)
But the biggest takeaway from all of this, I think, isn't that a disgruntled man at a comedy show thought he could do better than a professional comedian. Nor is it the fact that, like most good comics, Haddish has managed to turn this whole thing around for herself, in terms of her public image and the comedic material she develops for the stage. Instead, the biggest and best message we can (and should) take from this is the fact that live performance is not (and almost never is) perfect.
Thanks to the steady stream of comedy specials that Netflix (and streaming in general) is putting out now, the majority of television viewers are learning less and less about how stand-up comedy actually works. The comics themselves and the audiences who leave their homes to see them perform live (especially those who do this on a regular basis) already know this. But the Netflix subscriber at home whose chief (if not only) exposure to stand-up is the latest special from Amy Schumer or Kevin Hart? Not so much.
The specials we consume in the privacy of our own homes (or on our smartphones when traveling) are the result of several years' worth of preparation. Comics go out every other night, if not every night, to work through new material and polish it until it's shiny enough to attract the attention of a few cameras. And even when a taping happens, it's almost never a straight show for all parties involved. Comedy specials are the direct result of multiple tapings, usually during a single weekend, and all the footage gathered is whittled down until it best represents the hour of comedy that the comedian, their creative team and whatever network or streamer that's distributing it want to put out into the world.
So if you go to a live comedy show expecting "perfection"," be it what others have told you about said comedian or what you yourself have seen in the polished specials or movies they've been in, then you're setting yourself up for disappointment.
This all seems very obvious, and it is, but sometimes I think that general audiences (as well as experts) tend to forget this trivial little factoid about the entertainment industry. None of this stuff is made in a vacuum. Nor is it instantaneous. Comedy takes time. Comedy screws up sometimes. Sometimes these screw ups are the fault of this long process. Other times, they're the fault of whatever circumstances have led the comedian and their audience to a particular poor performance. (Like, for example, a group of friends' insistence that everyone goes out drinking the night before a big gig. Not to mention the fact that said gig is happening on New Year's Eve, one of the drunkest nights in the country.)
Though it wasn't published in the final Forbes piece, this was something I spoke to Emma Arnold about recently. In both her new album, Abortion. Abortion. Abortion., and her 2017 special Yes, Please, Arnold purposefully left in parts of the performance tapings that weren't as perfect as most streamlined specials on Comedy Central or Netflix typically are. Not because she couldn't afford to cover up the mistakes, but rather due to how much more honest these mistakes were. Here's the transcript:
One of my favorite moments in Yes, Please, in the taped special version, is… I don't remember what routine it is, but there's a moment when you forget a punchline and you tell the crowd, "Let's just assume the joke I just told was the punchline." You move on from it, but you kept it in there. Personally, I love seeing that in comedy. Obviously, it's a live show, so it's just whatever's happening. But when it's taped for an album or a special, when comics decide to keep those moments in, I don't know. I just think it's more fun.

Yeah, I totally agree with you and I think it's one of the things I love about comedy, and I think one of the reasons it keeps me interested whereas maybe other hobbies like embroidery and stuff eventually fall off the map for me, I mean, not that comedy is my hobby but like other interests, is that it's different every show. Every show is so completely different and when I signed with Blonde Medicine, I told them, "Look, I think I want to have a Grateful Dead approach to comedy, where we record everything and we just put out a lot of content, and it's not going to be perfect, but people get to feel like they were there." I left that in there because it's the truth. I fucked up and I couldn't remember the end of that punchline and we could have edited it, but I thought it was just more real, more me to be like...

I have some memory issues, I have a neurological thing, and so I sometimes forget punchlines, I forget jokes, I forget a lot of things. So instead of trying to be like, "Hey, everything I do is perfect." I try to be like, "No you guys, I forget stuff too, it's okay." I mean, I respect a perfectly clean, beautifully done comedy special obviously and hey Netflix, wouldn't mind having one, but also like this is who I am, is kind of a rough and tumble mess who is like, "Here, here's a bunch of stuff, I've got to go, I've got three kids to feed."
There's not really a moral to this story, but if there is, then it's probably something to the effect of, "Don't get mad at artists when they're not as perfect at doing whatever it is that they're known for during the particular time you've decided to see them do it." That, or "shit happens."
---
Random Bits
I'm not the biggest fan of Saturday Night Live's current iteration. I freely admit that this is largely due to my nostalgia for the cast and writers I grew up watching, like Norm Macdonald's "Weekend Update" stint, but it's also valid. Why? Because Colin Jost and Michael Che, who are two of the show's head writers and the current co-hosts of "Weekend Update," are not funny.
Che has his moments, sure, but Jost? He's a poster child for the mediocre white Harvard-educated men who have come to dominated SNL's writing roster over the past few decades. So here's one of my favorite GIFs ever… a WWE wrestler grabbing Jost by his shoulders and neck and launching him into a wall. The pair is involved, for some reason, in this weekend's WrestleMania event in New York City… hence the GIF.
---
Crowd Work
Don't forget, I actually want you to respond. I've only received one response so far, from my old colleague Chris Illuminati, who told me the newsletter is "fantastic" and to "keep up the good work." Thanks, Chris!
But seriously, send me whatever questions, comments are snide remarks that you may have about my thoughts on stand-up comedy, or comedy-related matters I didn't cover, but are nonetheless on your mind. To get in touch, simply email me and we'll go from there. For example, if you still don't think Haddish is funny, are concerned about my Jost hate or just want to broach some other comedy-adjacent topic, email away!